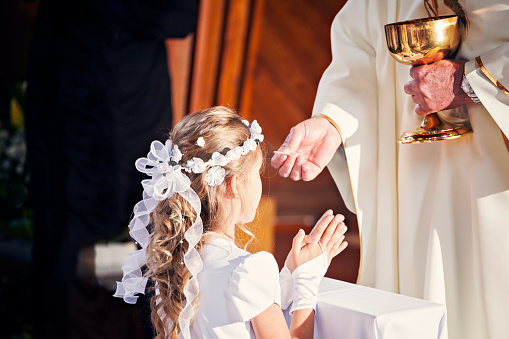 istockphoto-957298874-170667a
The Mystery of the Eucharist in the Life of the Church
Online Course
This free online course from Bishop Cozzens, head of the United States Conference of Catholic Bishops (USCCB) Committee for Evangelization and Catechesis and Bishop of Crookston, is a great resource to help you and your young people unpack the 2021 USCCB document on the Eucharist. The 2021 USCCB document on the Eucharist is the doctrinal source text for the Eucharistic Revival, "The Mystery of the Eucharist in the Life of the Church." To watch a preview of and sign up for the free online course click below.
To assist you in welcoming young people and their families to learn about and participate in the revival, Loyola Press has launched a Eucharistic Revival microsite with dozens of resources for teaching about, celebrating, and living the Eucharist, so that it truly becomes the "source and summit" of our lives. To explore the site, click here.
Bishop Andrew Cozzens, USCCB Evangelization & Catechesis Chair, discusses Eucharistic Revival. You can find other CHATechesis Podcast episodes on the Eucharistic Revival by clicking here.