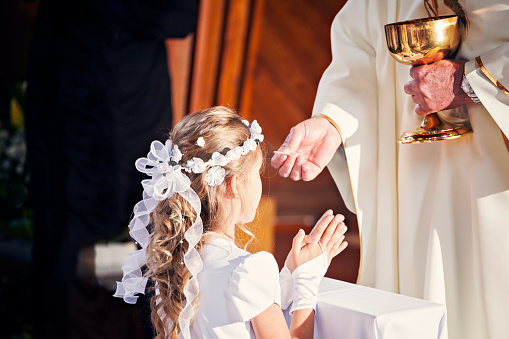 istockphoto-957298874-170667a
Families with children are encouraged to take part in as many of the Holy Week liturgies as possible and enter into it through your prayer and activities at home. Together, families can learn about the events of Jesus' entry into Jerusalem, the Institution of the Eucharist, the Way of the Cross, his Crucifixion and burial, and the waiting at the tomb for him to rise to new life on Easter Sunday. To access activities, click here.
The National Eucharistic Revival is a call for catechists to be more intentional about catechizing and evangelizing about the Eucharist. Support catechists and families in their efforts with this kit, filled with printable activities that will help students of all ages learn and share what they know about the Eucharist. Annotations for parents or teachers are provided on the final page of the kit. To access the kit, click here.
The Mystery of the Eucharist in the Life of the Church free online course is great for unpacking the 2021 USCCB document on the Eucharist. The 2021 USCCB document on the Eucharist is the doctrinal source text for the Eucharistic Revival, "The Mystery of the Eucharist in the Life of the Church." To watch a preview of and sign up for the free online course click here.
To assist you in welcoming young people and their families to learn about and participate in the revival, Loyola Press has launched a Eucharistic Revival microsite with dozens of resources for teaching about, celebrating, and living the Eucharist, so that it truly becomes the "source and summit" of our lives. To explore the site, click here.
Bishop Andrew Cozzens, USCCB Evangelization & Catechesis Chair, discusses the Eucharistic Revival. You can find other CHATechesis Podcast episodes on the Eucharistic Revival by clicking here.
Gloria Purvis from the Gloria Purvis Podcast and Bishop Andrew Cozzens, Chair of the United States Conference of Catholic Bishops Committee on Evangelization and Catechesis and leader of the National Eucharistic Revival discuss the meaning of the Eucharist, the plans for the Revival and the modern complexities of dealing with political controversies and communion. Bishop Cozzens also shares the importance of continuing transparency and pastoral leadership amid the sexual abuse crisis. You can find the podcast here.